Reblog: 6 Tips For Choosing The Right Investment Bag!
Here at COTT, we want to be a resource for finding your wardrobe's next guilt-free luxe addition. So we scour the interwebs to find you helpful information to make smart decisions! One of our favorite DC writers gives you tips on how to choose your next investment bag. Here's lookin' at you, Naina Singla!
____________________________________________________________________________
We all have a weakness or two and mine happens to be a strong cup of coffee, a glass (or two) of cabernet wine, and fabulous designer handbags. I admit I have an obsession with really high end handbags. And while most of these handbags here are on the expensive side you can certainly find other options in a variety of price points. And regardless of your budget I have style tips that will help you find your perfect investment bag.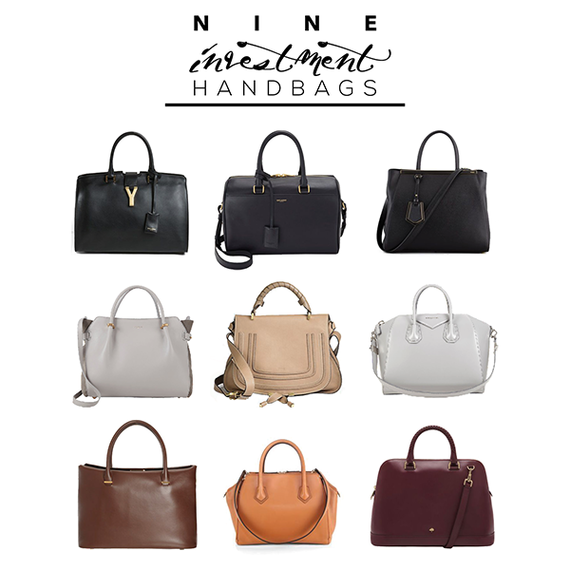 1. Saint Laurent Leather Satchel | 2. Saint Laurent 6 Hour Duffel | 3. Fendi 2Jours Vitello Elite Shopping Bag | 4. Nina Ricci Medium Marche Tote | 5. Chloe Marcie Medium Satchel | 6. Givenchy Medium Antigona Duffel | 7. The Row Carry All Tote | 8. Rebecca Minkoff Perry Satchel | 9. Mulberry Pembridge Double Handle Bag
1. Choose a high quality bag
When looking for that perfect investment tote it is crucial to search for quality. Buy the best quality you can. This is a piece that you will be toting around to a slew of events and you don't want to settle for anything less then amazing quality. Unlike a statement dress that may be hard to re-wear, a handbag is something that can be re-worn and so easily re-purposed in ones wardrobe.
2. Choose leather
Leather is a great fabric because it ages so well. It is one of the rare things in life that looks better as it grows older. That is why it is an amazing choice for an investment bag. You can have this piece for years and it will only get better and better, need we say more?
3. Select a neutral color you love
I am always inclined to opt for nude, grey, or black when I am investing in bags. It is a classic and multifaceted color that can be paired with most anything. From jeans and a tank top to a little black dress, a neutral handbag can complement so many different styles, pieces and personalities.
4. Keep it structured
No matter what style you gravitate towards, geometric, linear, organic, a structural handbag is always the best idea. It will better withstand the daily wear and tear and it will easily retain its shape. The last thing you want is a saggy handbag, instead opt for a sleek and structural style that will last longer.
5. Avoid bags with large logos
Like anything, trends come and go. When you are investing in a handbag you want to try and think long term. Still go for a statement piece or head for a reputable label, but try to avoid a large logo that will scream the place of purchase. Subtlety is always chicer and it will stand the test of time.
6. Keep the hardware minimal
There are a number of incredible handbags that are being shown right now that have elaborate hardware and intricate details. Although these pieces may be eye-catching and astonishing, they are not really made for real life. When it comes to hardware less is more. You would never want to be out and have a stud fall off or a chain detach. Purely in terms of upkeep and durability you may want to leave the hardware bags on the runway.
And of course remember to keep your bag clean, store it in the dust bag, and never leave it on the floor.